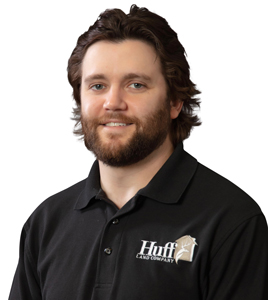 Dallas Powell
Realtor, Huff Land Company
Dallas has lived in the Cedar Valley his entire life. He grew up in La Porte City and graduated from Union High School in 2006. He currently lives a few miles outside of Waterloo in a small residential neighborhood.
Dallas has been fishing, hunting, and camping in this area and other parts of the state all of his life. He is also very fortunate to come from a family that has owned farmland and hunting land for generations, so he knows first hand the advantages and overall satisfaction you get by owning your own property.  He knows a lot of people around the area involved in many different things including agriculture, business, contractors, outdoor enthusiasts, and many family friends.
Some of Dallas's hobbies and interests besides the outdoors and real estate include history, geography, golf, philosophy, architecture/engineering, sports, music, and movies. He also spends a lot of time at the family cabin along the Mississippi River in Clayton County. He and his family have been enjoying their summers up there for the past 25 years.
His time spent out on the water and exploring the bluffs overlooking the river is where he developed his true love for the outdoors and beautiful landscapes.
Dallas believes honesty, loyalty, and integrity are the most important qualities a person should possess and he will rely on these as he helps you along the way. He uses a simple and straightforward approach to try and make the process go as promptly and as smooth as possible. To him, the ultimate American dream is owning your own property and pursuing your own happiness. So whether you're an experienced investor, farmer, outdoorsman, or first time homebuyer, Dallas would love to help you complete the process!