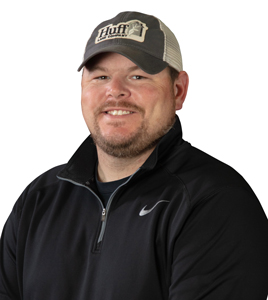 Josh Ewoldt
Realtor, Huff Land Company
Josh was born and raised in rural Traer. He Graduated from Union High School in 2001. He attended Hawkeye Community College and Iowa State University and graduated in 2005 with a Bachelors of Science degree in Agricultural Studies.
After Graduating Josh returned home to the family farm and has been an active farmer of Commercial Corn, Seedcorn, and Soybeans. He ran his own commercial spraying business for 10 years, and then took over the day to day operations of his family farm in 2015.
Josh is very passionate about all types of ground, from Prime Farm ground, to timbered hunting ground, and the importance of maintaining the land for future generations to come. His father Barry also loved the land and was a realtor for many years. They enjoyed looking at the many types of farms together and finding the right person for each farm.
Josh got married to his wife Tasha in 2005 and they still reside in the rural Traer area. Josh has 3 daughters, Shae, Kruiz, and Kaeler, that attend North Tama Community Schools and are active in many sports. They enjoy spending time with friends, golfing,  traveling as a family to new places,  and camping in the summer.